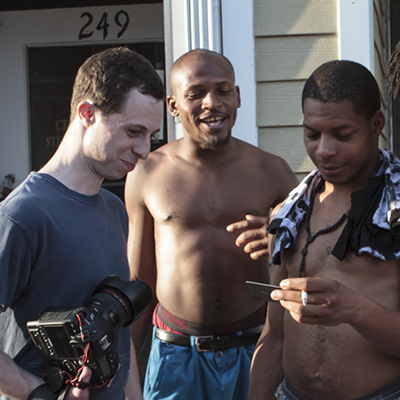 There are people we see every day but never greet. Streets we pass but would not walk on. My impetus is to walk those streets and interact with such individuals. Street photography is not watching a crowd, it's becoming part of the crowd. I don't think there is a better way to truly appreciate the people I photograph until I have walked on the same pavement that they have. Each photograph is a glimpse of my personal experience with my subjects—up-close and candid, for better or worse.
My photographs are from an ongoing series, EVER ONWARD, that chronicles my up-close and personal encounters with the inhabitants of Binghamton, New York. This area, once a well-off manufacturing town for defense during the Cold War and founding city of IBM, has long been economically depressed. It was well known that in the heyday of Binghamton, IBM had some of their largest factories nearby. In that bygone era, large companies were cradle to grave multigenerational employers that were more like countries than corporations. Binghamton "IBMers" would show their pride by singing their corporate anthems daily—one of which was called "Ever Onward." IBM, like the rest of these large companies, have long left Binghamton, leaving behind chemical spills and economic disparities.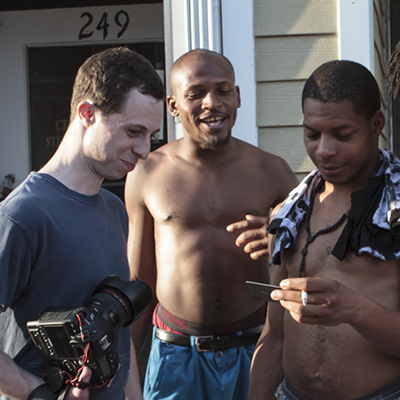 Having been a resident for most of my life, I have grown to enjoy and appreciate the diverse communities that have formed in such a small area. Traditional multigenerational families and immigrants from around the world seeking a lower cost of living color this town with a unique culture unlike anywhere else in the Rust Belt.
Binghamton sits in the Southern Tier, a central section of New York at the heart of heated political debates. Proposed natural gas drilling and secession into Pennsylvania have propelled our struggling community into national news. A growing university presence has begun gentrifying the downtown area. Property levels have risen as poverty levels worsen. Gangs, drug trafficking, theft, and violence are problems which currently afflict ailing neighborhoods. A small town shadow of New York City in the 1980s?
What are the effects of gentrification on communities—as people, not property value? Property values rise; do those living in the communities rise as well?
Through my photographs I hope to give the viewer a perspective into some these questions. It's time to give Binghamton more than a face, but to show its soul.
---